Fife Council Recycling Centre Booking System
Recycling centres re-opened on Monday 1 June. Knowing the demand for using them would be high, Fife Council opened five of their centres by appointment only. To protect staff, the council's priority remained to ensure that local people and staff were kept safe, we only sites which could operate safely and within COVID-19 restrictions were re-opened.
The council ensured physical distancing and managed traffic with strict measures. In addition to the booking system, it restricted the number of people on the sites at one time and limited the types of recycling and waste being accepted. This was initially, bagged landfill, green garden waste, paper, cardboard, cans and plastics.
The booking system currently runs ;with allocated times to make sure visitors' social distance and that sites and surrounding roads are not overwhelmed with large numbers of customers arriving to use the sites at once.
A number of rules ensure the process is smooth and efficient. Customers are informed that staff are unable to assist with lifting or disposing of waste as well as being asked to book only one visit per week per household. Customers are also given clear instructions about arriving at their allocated time with booking confirmation and ID such as driving licence or council tax bill. At the site customers are directed by staff to a specific bay to unload waste in the containers available and asked not to venture outside the bay. Those visiting are asked to bring their own sanitiser and to clean hands after disposing of their waste.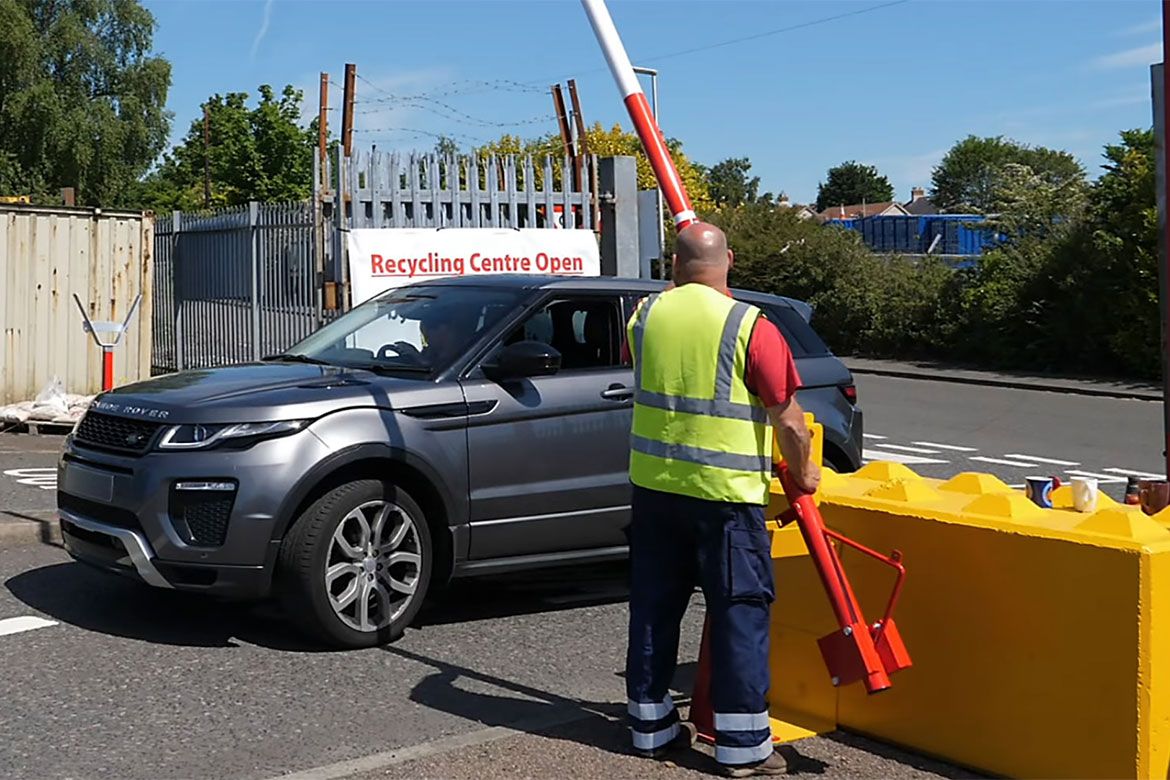 The new online booking system is generally working well. Feedback during the first week praised the slick process on-site and the appointments system which avoided the large queues seen in some other places. New appointment slots continue to be released every day–four days in advance of their availability. Booking system improvements to web pages, easy access to appointments at different sites are also some of the things the council continues to monitor after the initial weeks of re-opening.
From 15 June, as more staff were redeployed to recycling centres along with volunteers from across the council unable to do their normal work, more sites were safely re-opened. Centres now accept bulkier goods with the condition that people can dispose of these items unaided.
The public response on social media has been overwhelmingly positive. Recycling and bin collections typically attract very negative comments on social media and despite the country being in a pandemic with a reduced service during lockdown, the criticism by many Fife residents was still prevalent. However, many recent posts comment on the smooth operation of the booking system and the efficiency of staff at centres.
Fantastic service on both visits to Kirkcaldy recycling centre. The gents are doing a great job to ensure every customer has a smooth, quick visit. All of them have been friendly and helpful to me. Thank you.
Great set up at the St Andrews one, and really friendly staff. Was in and out super quick.