news
The 20 minute neighbourhood: impact, issues and recommendations
As Scottish Government expresses its ambition to deliver 20 minute neighbourhoods, the IS (with the Scottish Health and Inequalities Impact Assessment Network and the Spatial Planning for Health and Wellbeing Collaborative Group) has published a report comparing application of policy to deliver a 20 minute neighbourhood approach to a more traditional spatial planning approach.
This briefing summarises key issues, recommendations and research questions raised in that report.
The COVID-19 pandemic has highlighted the importance of local places for people's health and wellbeing. Spatial planning policy shapes local neighbourhoods, with significant impact on the health and wellbeing of both current and future residents. The report assesses the contribution of each scenario in addressing Scotland's National Outcomes, more specific place and health outcomes and the impact on different population groups.
The 20 minute neighbourhood scenario is defined as including "higher density, mixed use development that targets access to public green space, a range of affordable house types, public transport and active travel. The higher density provides the critical mass to support local services and amenities to achieve a mixed use area that can help to reduce car usage."
Features of the 20 minute neighbourhood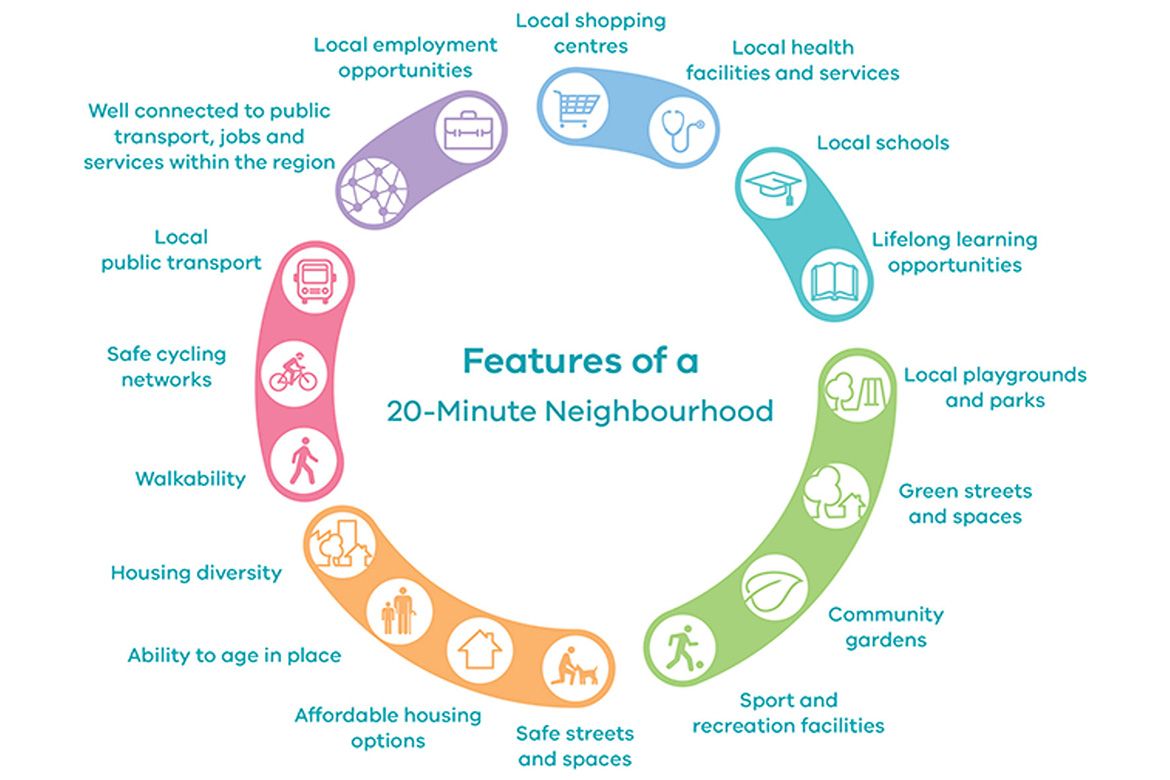 The features of a 20 minute neighbourhood: local shopping and health facilities, education, green spaces, affordable and diverse housing, safe streets, active travel and public transport, and employment opportunities.
In finding positive impacts for health and wellbeing from the 20 minute neighbourhood scenario, the report highlights this is dependant on having in place elements such as infrastructure, services and design quality. Recommendations include that developments not be solely residential but must be truly mixed use, with safeguarded space for services and amenities, high quality greenspace and all homes having access to some private greenspace be that a garden, balcony or roof terrace. Furthermore, housing developments should avoid homogeneity of house type, size and style providing different household sizes to increase inclusion.
Traditional lower density developments were assessed as more likely to encourage car ownership and use. This is because the distances and homogeneity of land use are less able to sustain frequent public transport and more likely to discourage active travel.
The Report prioritises research questions to secure more evidence around three broad areas: housing and the social determinants of health, the level of services and amenities to benefit health and reduce inequalities and, finally, what supports social capital in communities. Moving forward the same approach will now be scoped at different scales - Masterplan and regional - and continue to identify supporting research as well as evidence gaps. The work will inform the integration of the recommendations and place and health outcomes into the National Planning Framework which is currently under revision.