news
Project shortlisted by Improvement Service wins TCS Sustainathon UK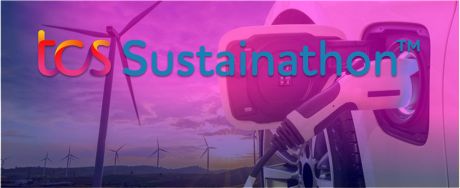 The winning team in this year's Tata Consultancy Services (TCS) Sustainathon UK was an entry shortlisted by the Improvement Service in response to their competition challenge to come up a creative solution to expand the scope of the National Entitlement Card scheme.
The TCS Sustainathon is a competition which challenges students to find solutions to real-world problems with a focus on sustainability. The IS was invited by TCS to create a sustainability problem statement for the Sustainathon event, which would challenge participating students to come up with innovative technological solutions which reduce emissions, incentivise behaviour change and create sustainable products and services.
Forty Sustainathon entries from across the UK were reduced to eight finalists by the four partner organisations – Aviva, EDF, Lloyds and the Improvement Service - with two entries shortlisted by IS Chief Executive Sarah Gadsden, Martin Brown, Head of Digital Public Services, and Judi Kilgallon, Climate Change Project Manager, to go through to the final on 5th November.
The two shortlisted teams chosen by the IS both placed, with Biophilic from University College London taking first prize, and Green Beans from University of Glasgow finishing in joint third position.
Biophilic's winning outlined a plan to expand the existing opportunities offered by the National Entitlement Card by developing an idea for an app that will allow the NEC to also work as a points-based loyalty card, encouraging sustainable activity such as using public transport and recycling in exchange for discounts at local retailers and at local events.
Martin Brown, Head of Digital Public Services at the Improvement Service, said:
"The Improvement Service has enjoyed being a part of TCS Sustainathon UK and we were hugely impressed by the standard of the entries to the competition.
"The opportunities presented by the National Entitlement Card clearly inspired the teams involved, and it was great to see the creative and imaginative responses to our challenge to expand the function of the NEC."