news
Improvement Service partners with TCS for Sustainathon UK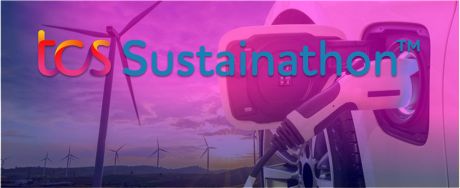 The Improvement Service has joined forces with Tata Consultancy Services (TCS) to support its Sustainathon challenge for university students across the UK.
The TCS Sustainathon is a competition which challenges students to find solutions to real-world problems with a focus on sustainability. The IS was invited by TCS to create a sustainability problem statement for the Sustainathon event, which would challenge participating students to come up with innovative technological solutions which reduce emissions, incentivise behaviour change and create sustainable products and services.
As TCS is a delivery partner for our award-winning getyournec.scot project, which allows members of the public to apply for National Entitlement Cards online instead of having to go to a local council office, the IS decided to focus on this area for our problem statement, setting the following challenge for Sustainathon students: "How can the National Entitlement Card's capability and scope be expanded as a digital technology to motivate and nudge users to make sustainable choices."
Students taking part in the UK Sustainathon can also access a series of webinars from industry leaders, while the winners get a two-week virtual internship with TCS, along with an invitation to the TCS Innovation Forum in London.
Improvement Service Chief Executive Sarah Gadsden said:
"The Improvement Service is delighted to partner with TCS to support its Sustainathon UK challenge.
"Technological solutions will be vital in the future for sustainability challenges and this is a great opportunity for the next generation of technology professionals to gain an understanding of the kind of real-world problems that we are already solving at the Improvement Service.
"getyournec.scot has already been recognised for its innovation at the IESE awards and was an obvious choice for our contribution to the Sustainathon. It will be interesting to see what kind of solutions the participating students come up with, and I wish them all the best of luck for the competition."