news
Scotland's Green Recovery: The Role of Local Government
The scale of the challenge to achieve net zero is huge – but so are the economic opportunities for Scotland in creating new green jobs, attracting inward investment and boosting exports, says David Kelly, Policy Manager at SCDI. Here he sets out five priorities for local government to achieve a just transition.
Key messages
We need to respond to the climate emergency with the same urgency as the public health emergency of COVID-19.
The scale of the challenge to achieve net zero by 2045 is huge – but so are the potential economic opportunities of clean growth for Scotland.
Central, national and local government need to collaborate rather than compete to achieve net zero – local government needs the right powers, resources and skills.
Local authorities can play a decisive role through sustainable placemaking, planning and procurement.
It has become a cliché to note that the COVID-19 crisis has caused unprecedented disruption and damage to our economy and our society. But it has also caused us to reflect, rethink and reset with the chance to think about the kind of country we are, the kind of country we could be and the kind of country we want to be.
There is a thirst for and a belief in change. Only 9% of us want to simply turn the clock back to how our world was before the pandemic. The transformative changes we have made to the way we live and work in such a short period of time in response to COVID-19 show the pace and scale of change which is possible.
COVID-19 has permanently changed the way we live our lives and the way we think about public health. But could – and should – it also permanently change the way we design and implement policy in economic development?
As we look beyond the pandemic, at the Scottish Council for Development and Industry (SCDI) we have been asking our members across the private, public and third sectors: 'What kind of recovery do we need?' And, looking towards the horizon: 'What should Scotland be known for ten years from now?'
Our Clean Growth Leadership Group has brought together partners from across the Scottish economy to collaboratively develop and champion ideas which will help Scotland to strengthen our social and economic prosperity at the same time as reducing our carbon emissions in a just transition to net-zero by 2045.
Our Leadership Group has convened key sectors like construction, energy, education and transport. Local government has been represented by Perth and Kinross Council and North Ayrshire Council.
Given the 'code red' for humanity signalled by the latest IPCC reports, we believe that we need to respond to the Climate Emergency with the same sense of urgency as we have the public health emergency of the pandemic.
The scale of the challenge is huge – but so are the economic opportunities for Scotland in creating new green jobs, attracting inward investment and boosting exports.
Alongside our partners, we believe in a green recovery from the crisis. We believe that Scotland should focus on delivering clean growth to build a more sustainable, resilient and prosperous economy and society for the benefit of all.
This blog highlights some of the key messages from our Building Scotland's Green Recovery and Manifesto for Clean Growth reports, with a particular focus on the major takeaways for local government, which will have a critical role to play. Many of Scotland's local authorities have set net zero targets or declared a climate emergency but still need to make difficult decisions to translate ambition into reality.
What is clean growth?
Clean growth is growth which works for people, strengthens our economy and saves our planet. It means increasing prosperity while reducing emissions and reversing biodiversity loss. It means responding to the climate and nature emergencies at the same time as delivering a just transition for all.

Elements of clean growth
Planet - reduces carbon emissions/protects and restores nature/achieves net zero by 2045
Economy - boosts competitiveness/innovation/productivity/resilience/sustainability
People - creates green jobs/improves health and wellbeing/delivers a just transition for all
It is a concept which recognises that we need growth for a strong economy and a strong society – but also need to accelerate the decoupling of economic growth and emissions growth if we are to achieve Net Zero. It recognises the future for people, economy and planet are inextricably linked because of the existential threat of climate change. We must address them together.
We have highlighted seven major economic opportunities for Scotland as part of a just transition to net zero – from leading the world in clean energy innovation to launching a green skills revolution which prepares everyone for the green jobs and industries of the future. Despite hopes for a 'green jobs boom', the number of low-carbon and renewable energy jobs in Scotland is actually declining.
So, delivering our vision will require action as well as ambition, marking a paradigm shift in significant areas of policymaking and decision-making in economic development.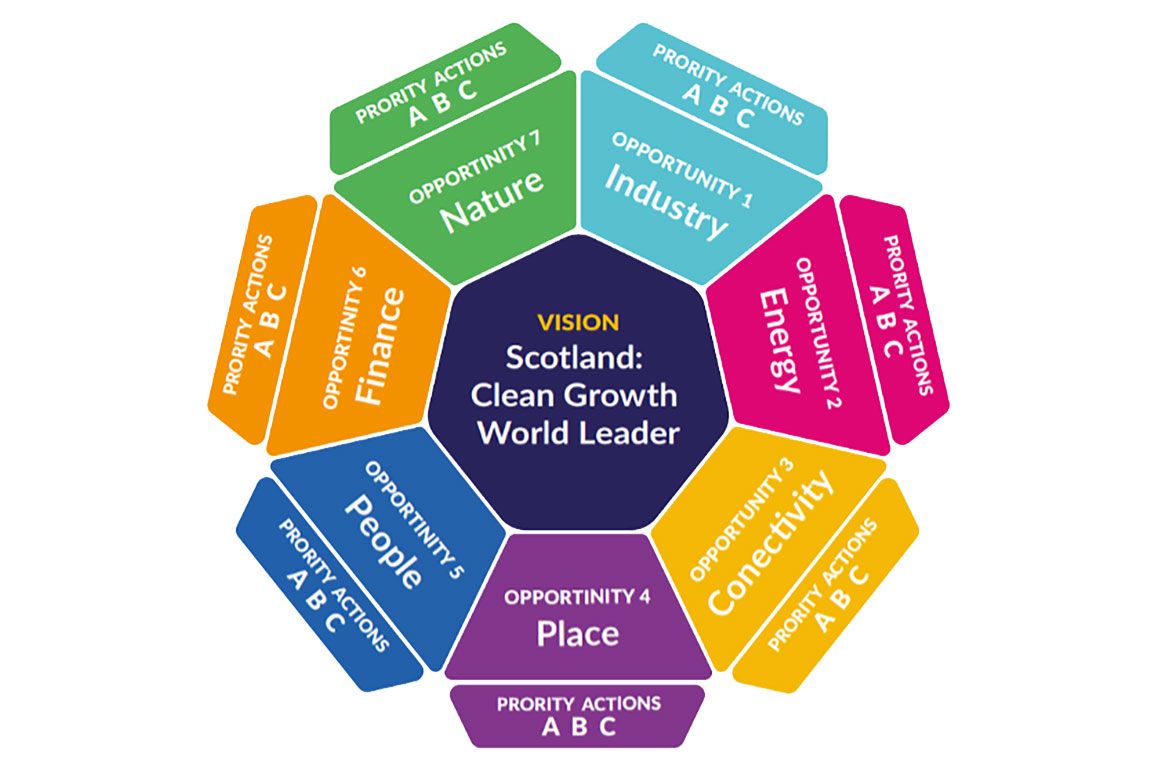 Seven major economic opportunities for Scotland as part of a just transition to net zero.
Vision - Scotland: Clean Growth World Leader
Industry
Energy
Connecticity
Place
People
Finance
Nature
Five priorities for Local Government
1. Accelerate modal shift and sustainable placemaking by developing Green Town or City Plans with support from the Scottish Government which retain and build on Spaces for People changes, deprioritise cars and enforce the sustainable transport hierarchy
Transport is Scotland's highest emitting sector, representing 38% of our national carbon footprint. In the context of a growing population, but despite substantial progress in other sectors, transport emissions remain largely unchanged on 1990 levels. This is largely due to stubbornly high levels of private car use. Road vehicles powered by fossil fuels represent up to 30% of Scotland's total emissions. Local government can play a decisive role in accelerating modal shift, encouraging citizens to walk, cycle or use public transport.
The key to delivering low- and zero-carbon transport connectivity is enforcing the sustainable transport hierarchy – walking and wheeling, cycling, public transport, taxis and shared transport, private car – through both investment and regulation, incentives and deterrents. There has been a lack of political will to date to systematically deprioritise and disincentivise petrol and diesel cars.
Our towns and cities need to build on the temporary interventions implemented during the pandemic – including as part of Spaces for People programme – which supported higher levels of active travel, more liveable streets and better places across Scotland. In Glasgow alone, cycling increased by nearly 400% between 2019 and 2020 as pop-up cycle lanes and road closures made walking and wheeling safer and more accessible.
Local authorities will need to retain and build on these changes to the way our places work and how we move around them to permanently reclaim spaces for people. It must be part of a holistic approach to revitalise our high streets after years of social distancing and self-isolation. Scotland's major towns and cities should develop Green Town or City Plans with support from the Scottish Government and local partners which set out the concrete actions they will take together to reduce emissions and improve transport to create highly connected, highly sustainable places.
These should deliver short- and long-term actions – from creating new parks and revitalising vacant land to expanding low-emission zones and active travel networks. They should accelerate modal shift, apply lessons from 20-minute neighbourhoods and address inequalities in access to green spaces and local services.
2. Work together with the Scottish Government and local communities to create local or regional working hubs which level the digital playing field and revitalise high streets in urban and rural places
We need places where people want to live, work, play, visit and invest – and where they can do so sustainably. Local authorities with responsibility for planning will increasingly need to develop the skills and capacity required to implement this 'place-based systems thinking'.
Building on the Place Principle, local government will need to develop, implement and ensure compliance with more ambitious and more comprehensive strategies to achieve net zero and deliver a nature-rich future for every community. They will need the resources to meet demand as higher volumes of applications come through the system.
COVID-19 will have a long-term impact on how and where we live, work and play. Flexible and remote working patterns will be increasingly common. Digitally connecting every part of Scotland with 5G would allow businesses and people to live, work, do business and access the services they need anywhere. Local or regional working hubs with 5G connectivity bringing together public sector partners, local businesses and 'home workers' could play a positive role in reducing the need for commuting or other work-related travel as well as strengthening communities and tackling isolation experienced in remote working.
Creating a more level digital playing field no matter where you live in Scotland, alongside new, ambitious and innovative place-based approaches to transforming our communities, will be critical, especially for local authorities with heavily rural populations. It could encourage more people to live and work in rural communities which have struggled with depopulation for decades. Rural communities could become increasingly attractive places to live, work and invest if we can deepen digital connectivity across the country.
3. Mobilise public spending and procurement for net zero through Community Wealth Building which creates local, green jobs, builds local, resilient supply chains and backs inclusive, sustainable business models
Community Wealth Building is an increasingly fashionable, innovative approach which focuses on harnessing local economic assets and maximising local economic opportunities to strengthen local economic power. It can revolutionise how public money is spent to transform our communities, deliver a Just Transition and support Clean Growth through better land use, shortened supply chains and greener procurement.
North Ayrshire Council has developed the first Community Wealth Building Strategy in Scotland, learning from the highly successful 'Preston model'. The strategy aims to bring together the regions local 'anchor institutions' or major employers to change how, where and why they invest, spend or procure to lock-in local value, better utilise community assets, support Fair Work and back more sustainable business models such as employee ownership and cooperatives.
4. Invest in the skills and capacity of the planning workforce and apply net zero criteria to all planning decisions
Public procurement should be updated and reformed with new rules, practices and culture which, supported by improved workforce training and third-party certified information on climate impacts, looks beyond outdated lowest cost models of assessment to evaluate whole life economic and environmental costs and benefits.
The planning system has undergone reform and faced significant challenges in recent years, including through the ongoing National Planning Framework 4 process. But to deliver net zero, decision-making will need to be timelier and more efficient, with digital technologies utilised to improve the accessibility and quality of planning applications. Local authorities must there be supported by the Scottish Government to ensure they have the resources necessary, as well as stronger powers and guidelines to reject developments which are incompatible with Clean Growth objectives. (In a country of ever more car-dependent urban drive-thrus and suburban retail parks, this does not yet always seem to be the case…)
5. Develop with the Scottish Government, partners and investors a new model which unlocks green finance by building aggregated regional or city region portfolios of investment opportunities from housing retrofit to nature-based solutions
Government, businesses, organisations, public agencies and local authorities across Scotland have set out different visions for net zero with different timescales for delivery. Meanwhile, the powers to achieve these targets are distributed across different institutions, regulators and levels of government. Key levers are devolved to the Scottish Government or held by local authorities, while many other key levers are reserved to the UK Government. This creates complex interdependencies which can only be overcome with common purpose and coordinated action.
Government and local authorities will need to collaborate rather than compete to deliver their ambitions and targets, sharing or learning from expertise and best practice, coordinating or aligning investments and working together to maximise assets and resources. Local authorities will need to work closely to develop more holistic plans which take account of negative spill-over effects or unintended consequences beyond their regions.
Financing this kind of activity will be challenging for many local authorities in the current climate. There will need to be a focus on new, more innovative approaches and especially those approaches which can leverage private investment to deliver potentially cost net zero investment programmes.
Smaller projects can often struggle to attract major investors unless aggregated into larger portfolios. For example, the level of investment needed to improve energy efficiency in domestic buildings can be substantial for individuals, yet too small to incentivise investors despite delivering otherwise attractive and reliable returns.
However, in the retrofit sector, this can be achieved through Energy Service Companies. The Scottish Government, local authorities and housing associations should work together to develop a model to build aggregated portfolios of social housing retrofit projects, potentially on a regional or city region basis, and other investment opportunities, which would deliver the scale necessary to unlock green finance.