products
CAPMRF: 2018-19 Report
The CAPMRF measures key performance indicators for welfare and money advice services funded by Scottish Local Authorities on both an in-house and commissioned basis. The report aims to help 'tell the story' of the value of advice services, as well as provide a mechanism for councils to benchmark their performance and identify scope to further improve the impact and value for money of these services.
Key findings 2018/19
The infographic below shows the key findings in the 2018-19 report. These are:
Local authority investment
29 internal services received funding from local authorities.
Local authorities invested £14.8m in internally delivered services.
71 externally commissioned services received funding from local authorities.
Local authorities invested £11.1m in externally delivered services.
Who accesses advice?
A large and increasing proportion of clients were in some form of employment. This increased from 25% of clients in 2017/18 to 29% in 2018/19.
54% of clients had a disability or long-term condition.
Three-quarters of clients had a household income less than £15,000 with 31% of clients on an income less than £6,000.
32% of clients were aged 60 and over.
Demand for services
A total of 244,637 clients were supported by money and welfare rights advice services in 2018/19.
Welfare rights advice services supported clients with 4,098 claims for Universal Credit, making up 6% of all claims.
The number of rent arrears clients increased by 10%, making up 13% of all debt clients.
Debt owed and financial gain
In 2018/19 there was a total of £186.3m debt owed by clients.
85% of clients reported health and wellbeing improvements.
90% of clients reported improved capacity and ability to cope.
Approximately £323.9m verified financial gain was secured for clients.
Every £1 invested in money and welfare rights advice provision by local authorities in Scotland provides financial gains of £13 to £14 for clients.
It demonstrates that advice services deliver successful outcomes for some of the most vulnerable members of society and that councils continue to invest significant resources in this area, despite these services remaining vulnerable to cuts.
This report has been produced by the Improvement Service (IS) in conjunction with Scotland's Local Authorities.
Key findings of the 2018-19 CAPMRF report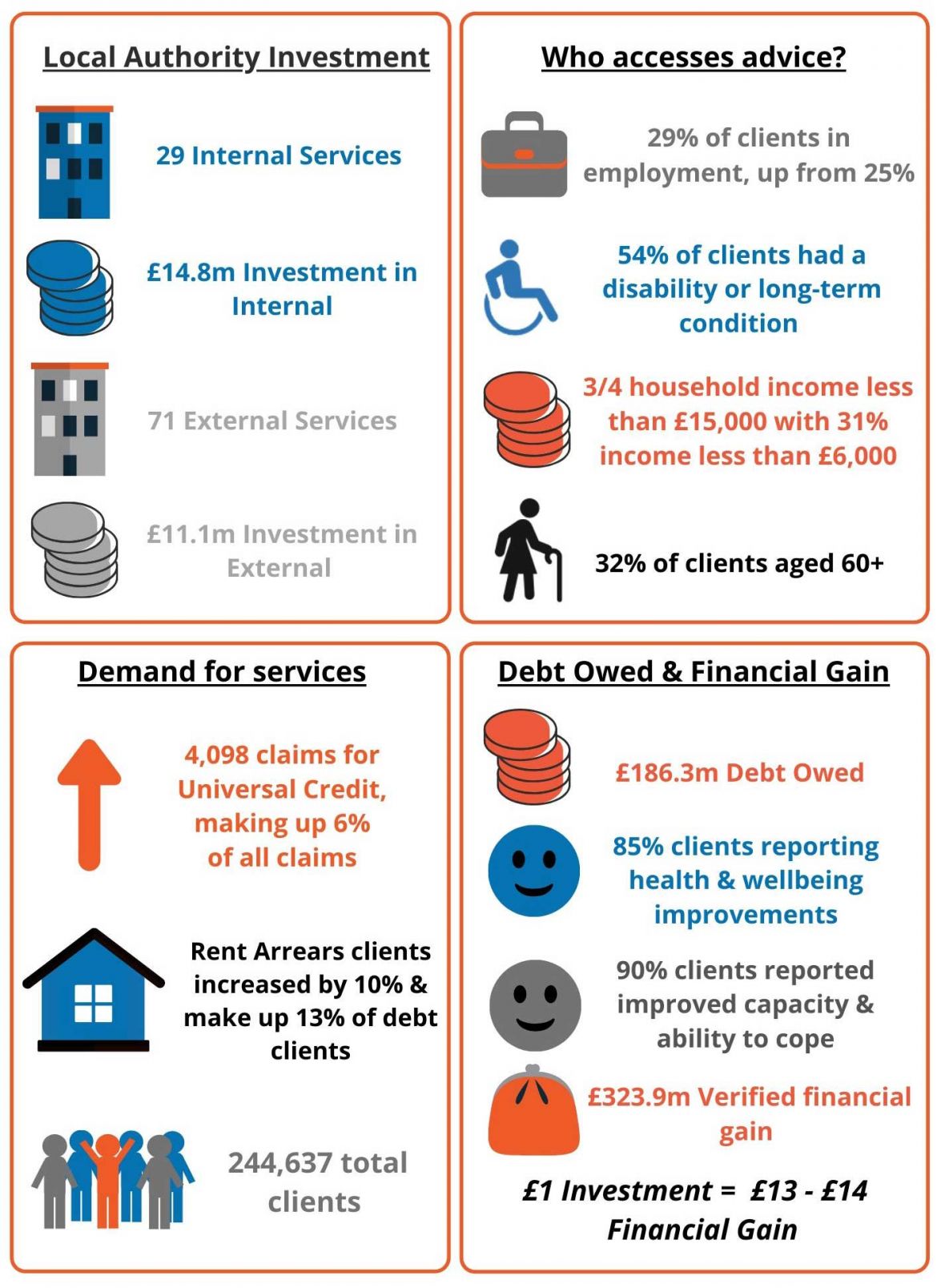 Cara Connachan - Research Officer