North Lanarkshire 'Helping Hands'
North Lanarkshire Council has been working with IT partner Agilisys to develop a system to ensure that 'shielding' residents or those self-isolating get the help they need.
What was the challenge?
When the UK entered lockdown during the COVID-19 pandemic, North Lanarkshire Council (like all councils) had a responsibility to ensure that its most vulnerable residents received the help they needed, whether that was food, financial support, prescription deliveries, dog walking or simply someone to talk to.
Plunged into an emergency situation, the council quickly set up a helpline team to handle incoming and outgoing calls to over 12,000 'shielding' residents - a group of advisors working 12 hours a day, seven days a week to call people, assess their support needs and refer them on to frontline services.
Very quickly, the manual logging system comprising paper-based questionnaires, spreadsheets and individual email referrals, wasn't able to cope with the volume of calls. The council began working with Agilisys to look at a technical solution. "We needed to find a solution that would support the team to manage this information in a more robust way," explains Susan Cloke, Business Manager at North Lanarkshire Council. "We realised very quickly, through discussion with our existing System Integrator (Agilysis), that a front end to a CRM system would help us do that."
Action taken
Using the council's paper-based questionnaire (which had become the national model for a COVID-19 support questionnaire), Agilisys developed a front end for a Microsoft Dynamics 365 CRM system. Named 'Helping Hands', the system was designed to make the council's process more efficient when proactively contacting residents as well as logging requests coming in and co-ordinating referrals to other services. In addition, as part of its support during the COVID-19 emergency, Microsoft offered the local authority access to a significant number of free licences for a six month period – a significant cost saving which allowed the solution to be assembled much quicker.
The first version of the system took four weeks to build and was up and running by 27 April 2020. Staff at the helpline were immediately transferred to Helping Hands for all new calls/requests whilst others carried out a programme to transfer information already collected in spreadsheets to the new CRM system.
This first version, and its implementation, wasn't without its issues. Problems with matching the data in spreadsheets with the new system meant that most data couldn't be imported and had to be transferred manually (taking a team of people to do).
"Version 1 was a bit clunky," admits Susan Cloke. "The front end of the system was fine, the data was entered but there was still a lot of development work that had to happen around the reporting coming from the back end of it. That was a bit of a learning process for us - how we were going to make sure that information from the front line was transferred successfully to actually deliver the support services."
Whilst development was ongoing, the council was involved in national discussions around the response to COVID-19. As interested developed from other councils in what North Lanarkshire and Agilisys were doing, The Scottish Local Government Digital Office organised a national group call where all interested councils could discuss and direct the system's development. "Through discussion with the Digital Office and the other councils, we worked up a second version of the questionnaire and Agilysis worked up a second version of the system. We're now on Version 2 which has smoothed over some of the bumps from the first version."
The result was a much more streamlined process. Rather than having to handle information several times to different channels, the data was entered straight into the system and referral reports were supplied four times a day and sent to the relevant services to deliver.
Results
By mid-June North Lanarkshire Council had made 12,394 calls to people on the shielding list. This had resulted in 1,174 referrals to other services such as our Financial Inclusion Team. The council and its partners (including NES and the community and voluntary sector) had also delivered 5,927 food parcels and collected/delivered 1,037 pharmacy prescriptions. VANL (our community and community sector partner) also delivered a range of tailored supports such as befriending or even dog walking.
The Helping Hands system is now used by seven councils across Scotland – North Lanarkshire, Glasgow, Stirling, Highland, Perth and Kinross, Clackmannanshire, and East Dunbartonshire.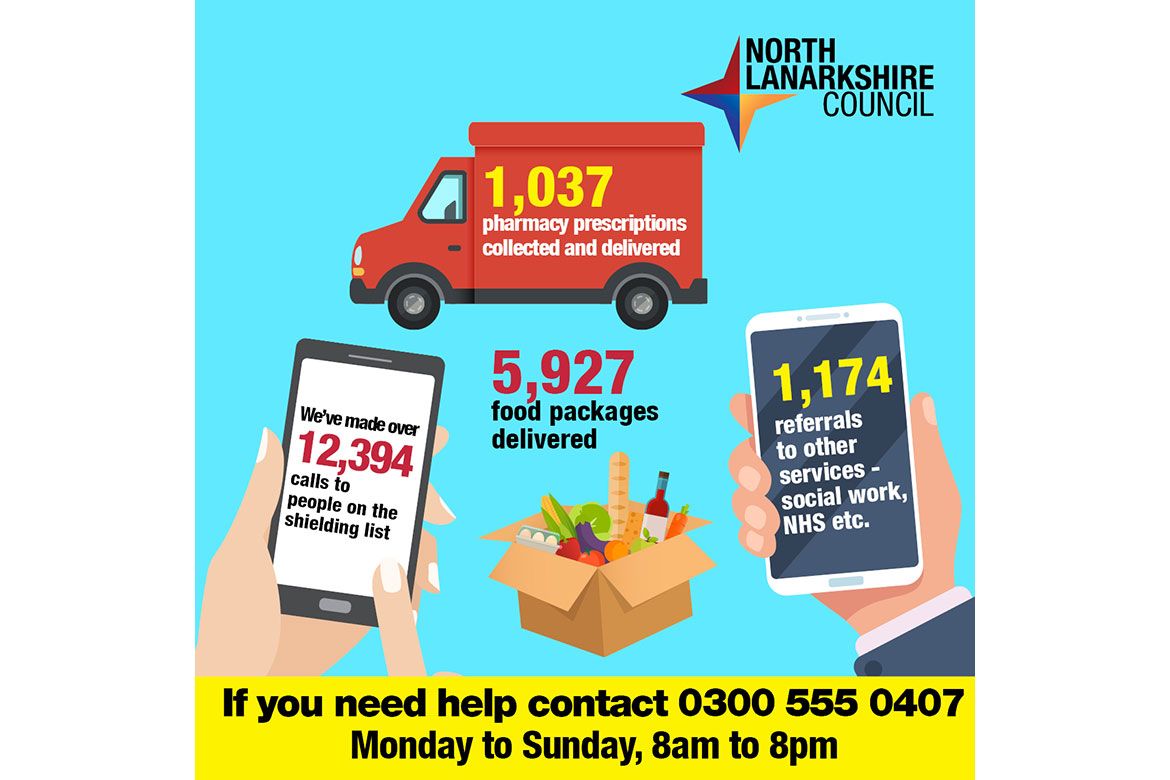 Lessons Learned
According to Susan Cloke, the council will be taking forward numerous lessons from its experiences during COVID-19.
"It has made us realise that while we need some of the processes we've had previously, we've been too bureaucratic in the past. Sometimes you need to take a chance and see if something works obviously within appropriate legal and financial controls".
"It was a learning process for us all. In a normal situation, it could have taken us anything up to 18 months to have introduced this to take account of testing and other measures. This was just out of the box, on the table and right, let's see if this will work.
"At one point we were sitting with a system that was partially implemented in the sense that we had uploaded the shielding list and had put in the information that had been captured manually, meanwhile we still had people doing a manual process. At that point we had to say, 'stop using your manual process, you're now using the CRM system'. I'm not sure we would have ever done it in that way before but there's a willingness to do whatever we can to deliver in this emergency situation and there was enough buy-in, at chief executive level, to say we're running with this."
A welcome result from the health emergency was the willingness of other councils to cooperate and collaborate to reach a common goal. The councils, Agilisys and the Scottish Local Government Digital Office worked together to agree a national questionnaire, then a second version of the questionnaire and version 2 of Helping Hands. With large differences in council size and how they used the system, it was appreciated that other councils were so accommodating to agree a national approach.
"There has been more openness and discussion between local authorities and a willingness to share," says Susan. "It will be refreshing for us all to keep these cross-boundary discussions and willingness to share going. For me, that external part has actually been very, very useful.
"We know we don't have everybody from Scotland around the table but at least there is a core of local authorities who have a closer relationship and a set of people who are having wider conversations around subjects like data and GIS, which has really helped to forge relationships and take forward systems that ultimately assist people and communities."
Next steps
As lockdown restrictions begin to ease, the council is in discussion with other local authorities in the Digital Office national group about the future of Helping Hands and how it can help them respond quickly to future outbreaks of COVID-19 or local lockdowns.