products
Support for Elected Members
Violence Against Women is an issue that affects all communities and we want to encourage members to become involved in tackling all forms of violence against women, as well as the attitudes and structures that perpetuate it.
The Improvement Service aims to make sure that elected members and community planning partnerships are up to date with developments and the challenges across Scotland by producing a range of briefings, promoting events, highlighting campaigns and presenting examples where multi-agency partnership working is making a difference in tackling violence against women.
We hope these resources will help to stimulate healthy, positive debate and discussion at a local level.
Current Briefings
Guidance and other resources
Violence Against Women and Girls: Primary Prevention Guidance for Community Planning Partnerships
Violence against women and girls (VAWG) is extremely harmful to women and children. It can cause severe and long-lasting physical and mental health problems, reduced participation in the workforce, substance abuse, and death.
We must be ready to respond to VAWG when it happens, but we should also work to prevent it from happening in the first place by tackling gender inequality, the root cause of this violence.
Community planning partners have a key role to play in this, both within their own organisations and as members of local strategic partnerships.
The Improvement Service and Zero Tolerance, in partnership with the National Violence Against Women Network, have published guidance that supports local community planning partners to develop effective local strategies and activities to promote and embed gender equality and prevent VAWG from ever occurring.
The Violence Against Women team is available to support community planning partners with workshops on developing primary prevention activities at a local level. Please contact the IS Violence Against Women team and Zero Tolerance for more information.
Equally Safe Quality Standards and Performance Framework
The Improvement Service has worked in partnership with the Scottish Government, COSLA and the National VAW Network to develop a set of quality standards and performance indicators for local Violence Against Women Partnerships. They can be used to measure, demonstrate and improve the activities they are undertaking at a local level to address violence against women and girls and the impact this work is having.
Masterclass Materials
Presentation: Engaging Men in Tackling Violence Against Women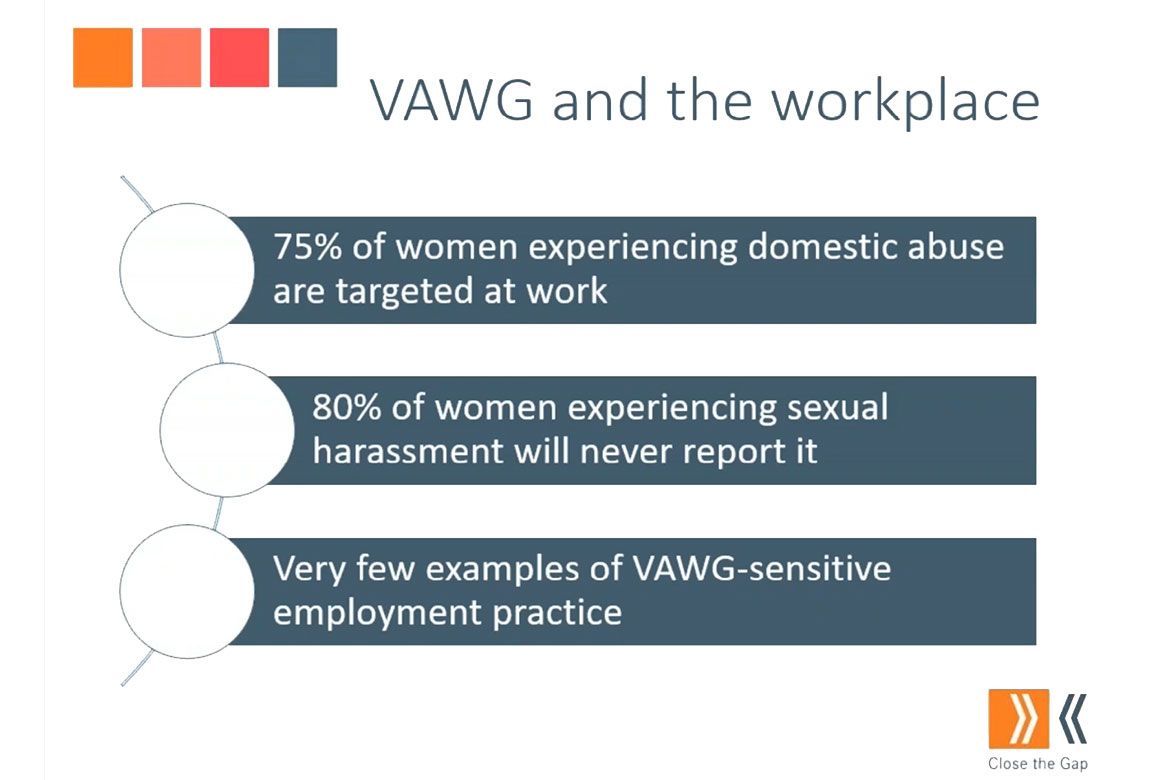 Webinar: Primary prevention of VAW exploring good practice in employment and the workplace
The Improvement Service and Zero Tolerance are hosting a series of webinars to highlight key themes and good practice from the primary prevention guidance. The first focuses on the links between the primary prevention of VAWG and employment and the workplace.
Joanna McLaughlin - National Violence Against Women Co-ordinator
Samantha Keogh - Project Officer, Violence Against Women